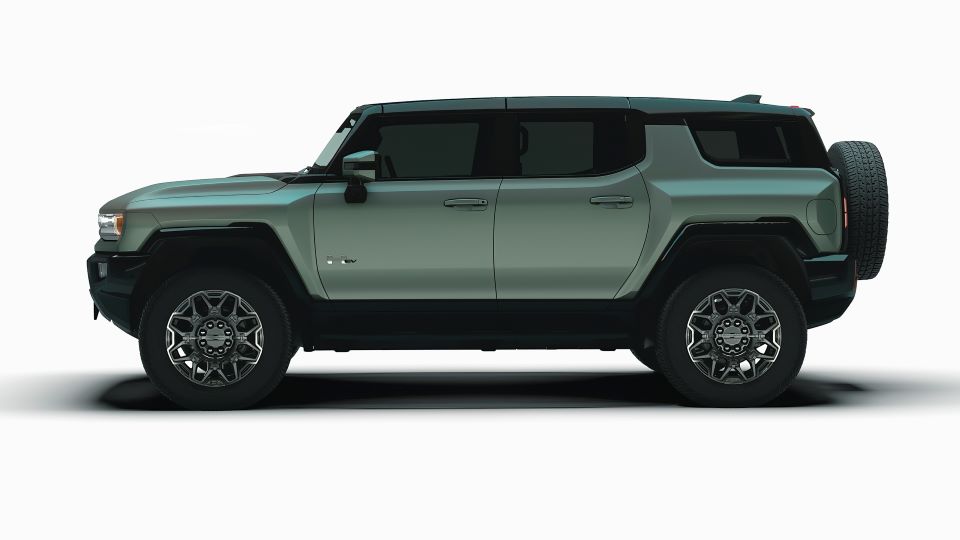 Hummer continues to innovate and is back with the all-new Hummer EV. This electric vehicle is proof that you can dominate the road and move away from fossil fuels at the same time. Its all-electric powertrain is capable of taking on any adventure. If you haven't seen Hummer lately, it's time you took a good look at the new Hummer EV.
Tackles Tight Spaces Like No Other
The Hummer pickup and SUV both command attention with their presence, Plus, they offer surprising agility in tough spots. In fact, the Hummer EV features Crabwalk™ standard. At low speeds, you can actually turn the rear wheels up to 10 degrees in either direction to move diagonally. On tight trails, this revolutionary option will help you navigate with confidence. In addition, you also have Extract Mode that comes standard. With Extract Mode, your Adaptive Air Ride Suspension can elevate the Hummer EV up to 6 inches. That way, you'll clear high water and boulders.
Off-Roading Where Others Can't Go
The Hummer EV has commanding 35-inch wheels and extreme off-road capability, so you can it just about anywhere. Independent front and rear suspensions keep you comfortable on the highway and capable on the trail. In addition, underbody armor lets you forge ahead with confidence, knowing the steel plates will protect the parts. And on several packages, you can get the 4-Wheel Steer function standard. This ensures you're in charge no matter the terrain.
An Unmistakable Look
While the latest Hummers look slightly different from the original, they're still unmistakable on the road. Strong lines, the Hummer name on the front above the grille, and ground-eating wheels make you impossible to ignore. Functionally beautiful lighting and an infinity roof option complete the look.
A Functional Yet Elegant Interior
The Hummer EV combines luxury accents with functional features in the interior. Easy-to-clean all-weather flooring holds up to muddy boots and heavy-duty gear. In addition, key accents create a luxurious look and add to the comfort of the ride. And the colors immediately communicate comfort and calm. Tech bronze accents highlight muted black and taupe upholstery for an otherworldly feel.
You might also like: Just Desserts: Try These Sweet Recipes
An Out of This World Experience
The Hummer EV offers a driving experience like no other. From the durable GMC Ultium battery to the features that will move you along any path, you're going to fall in love with this Hummer. To get the latest on the new Hummer EV and the available packages, head to Doug Henry Buick GMC of Goldsboro, North Carolina. You can test drive the Hummer EV models and find out why they are truly unlike any other vehicle in the world.