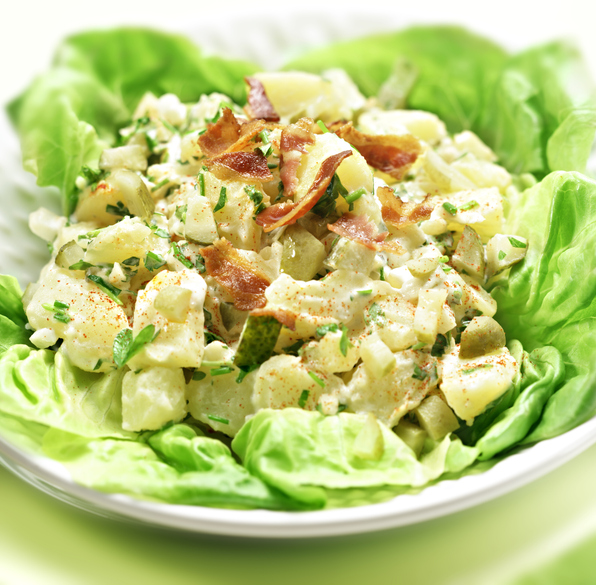 During summer, people get together for all kinds of reasons. Sometimes, it's to celebrate a holiday. Other times, it's to honor a person's birthday, anniversary, or retirement. Regardless, they share one thing in common – potato salad. That's the one side dish that a lot of people bring. This year, show off a little by making this Bacon and Egg Potato Salad.
Ingredients
It's hard to beat delicious potato salad. That's why it's such a popular side dish. The only problem is that people make it the same way. There's nothing wrong with that. However, why not make a great dish even better? Below are the ingredients you'll need for this yummy Bacon and Egg Potato Salad.
1 1/2 pounds of lingering potatoes (peeled or unpeeled and left whole)
2 tablespoons red wine vinegar
1 1/4 teaspoons kosher salt
1/4 teaspoon freshly cracked black pepper
1/2 pound of slab bacon (diced into small pieces)
3 tablespoons whole-grain mustard
3/4 cup Greek yogurt (you can substitute this with sour cream, but yogurt tastes better)
1 teaspoon granulated sugar
Six scallions (sliced thin on the bias)
One small red onion (peeled and diced)
Two large, hard-boiled eggs (chopped into bite-sized pieces)
Directions
Overall, making this Bacon and Egg Potato Salad doesn't take much time. However, whatever time you do spend on it is worth it.
Step One
Add the potatoes to a medium-sized saucepan. Cover them with cold water and a teaspoon of salt. Bring the potatoes to a boil. Afterward, reduce the heat to medium and cook for about 15 minutes or until it's tender when pierced with a fork.
Step Two
While the potatoes cook, sauté the bacon in a skillet over medium-low heat. For this, cook the bacon for roughly 12 minutes or until it's crispy. When finished, put the bacon on a paper towel to drain off any grease. Then set it aside.
Step Three
With the potatoes done, you'll need to drain the water. However, don't rinse them. Next, transfer them to a baking sheet. Let them sit for approximately 10 minutes to cool. At that time, cut them into quarters.
You might also like: Quick Facts About Cars Not Starting
Step Four
Put the vinegar, Greek yogurt, mustard, scallions, red onion, and sugar in a large bowl. In addition, toss in the rest of the salt and the pepper. Then add the cooled potatoes and mix well. When done, crunch the bacon into small pieces and add them. Again, mix everything well.
For this delicious Bacon and Egg Potato salad, you want to serve it to people while still warm. However, if you have any left, which isn't likely, you can refrigerate it. You can then reheat the leftover potato salad. Regardless, you and everyone else will love it. After all, it's different from the traditional side dish.
In addition, this Bacon and Egg Potato Salad goes with everything. You can serve it with chicken, beef, pork, lamb, or whatever you plan to make. Not only that, but you can also enjoy it by itself. It's that good.
Disclaimer: The stock image is being used for illustrative purposes only, and it is not a direct representation of the business, recipe, or activity listed. Any person depicted in the stock image is a model.