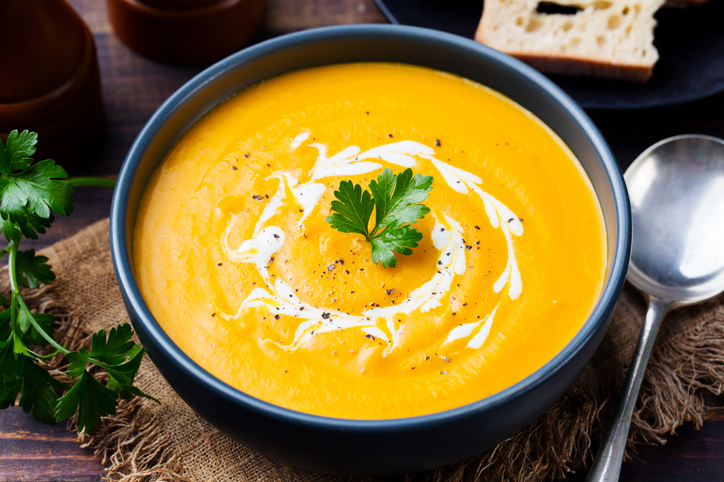 Nothing is better than a hot bowl of soup when it's cold outside. However, that doesn't mean you can't enjoy it any time of the year. As an example, this recipe for Creamy Roasted Carrot soup. It's refreshing, delicious, and nutritious. Surprise your family this spring with something new for dinner.
Ingredients
Here are all the ingredients you'll need to make Creamy Roasted Carrot soup.
2 pounds carrots (peeled and cut diagonally with the thickest part 1/2-inches)
3 tablespoons extra-virgin olive oil (divided)
One medium yellow onion (peeled and chopped)
3/4 teaspoon fine sea salt (divided)
Two cloves of garlic (peeled, pressed, and minced)
1/2 teaspoon ground coriander
1/4 teaspoon ground cumin
4 cups of vegetable broth
2 cups of water
2 tablespoons salted butter
1 ½ teaspoons fresh lemon juice
1/4 teaspoon ground black pepper
Directions
To make this yummy spring soup, follow these directions.
Step One
Preheat the oven to 400 degrees Fahrenheit. Then line a large, rimmed baking sheet with parchment paper. That way, you won't have to deal with as much cleanup.
Step Two
Place the cut carrots on the baking sheet. Next, sprinkle two tablespoons of extra-virgin olive oil and 1/2 teaspoon salt on the carrots. Now, toss them with a spoon, so they're evenly coated. Afterward, spread the carrots in a single layer.
Step Three
Place the carrots in the oven and roast them for 25 to 40 minutes. The goal is to caramelize and tenderize them. You'll know if they're done when you can pierce them with a fork.
In addition, if you use heirloom carrots, you'll only need to cook them for roughly 25 minutes. That's because they're not as dense as regular carrots.
Step Four
About five minutes before the carrots finish cooking, heat the remaining extra-virgin olive oil in a Dutch oven. When the oil's hot, add the onion and 1/4 teaspoon salt. Cook for five to seven minutes or until the onions tenderize and become translucent.
Step Five
At this point, add the garlic, coriander, and cumin to the ingredients in the Dutch oven. You'll only need to cook them for 30 seconds while constantly stirring. Next, pour in the vegetable broth and water. As you do, scrape along the sides and bottom of the pan to loosen any browned pieces.
Step Six
Now, place the roasted carrots in the Dutch oven. Bring all the ingredients to a boil on high heat. Then reduce the heat to low or low-medium so you can simmer them for 15 minutes.
Step Seven
You'll next put all the ingredients in the Dutch oven into a blender. With it covered, carefully blend them until they're smooth and creamy. Now, add the butter, lemon juice, and black pepper. Pulse the soup to blend thoroughly.
You might also like: Buick Has Big Plans For 2023
Helpful Tips
First, you can store this Creamy Roasted Carrot soup in the refrigerator for up to four days if it's covered. However, it'll also keep in the freezer for several months.
Second, you can create different results simply by adding additional ingredients. For example, add one to two teaspoons of subtle ginger flavor to make Creamy Roasted Ginger Carrot soup. Also, give it a curry flavor by blending in a tablespoon of Thai red curry powder, lime juice instead of lemon, a few fresh cilantro sprigs, and half a cup of roasted peanuts.
Disclaimer: The stock image is being used for illustrative purposes only, and it is not a direct representation of the business, recipe, or activity listed. Any person depicted in the stock image is a model.